*Some Assembly Required
NSF's Eddie Bernice Johnson INCLUDES Initiative TAPDINTO-STEM Alliance
Join us at the first in-person convening dedicated to expanding access to STEM postsecondary education and careers for individuals with disabilities.
The TAPDINTO-STEM convening is a 2 ½ day event that will feature speakers, panels, research, interactive presentations, and peer-to-peer discussions for people who share this mission.
During *Some Assembly Required participants will engage with each other and with resources to support the alliance.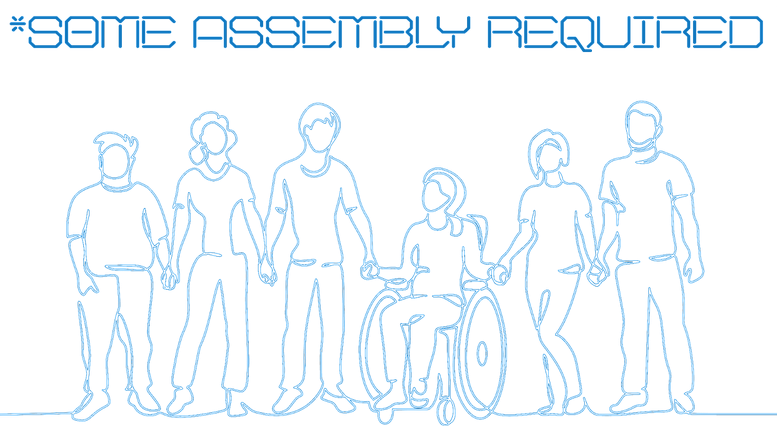 Dates and Location Information
Wednesday 29 at 10:00 am – Friday 31 at 12:00 noon March 2023
University of Missouri-Kansas City, Atterbury Student Success Center
Kansas City Marriott Country Club Plaza
Map: *Some Assembly Required (TIS convening) The Google map includes locations where we are holding the convening, restaurant options, places to explore, and locations for health needs. 
Building your Knowledge, Attitudes, and Skills
*Some Assembly Required will cover topics such as the following:
Building empowerment pathways for our students, institutions, and partners

Supporting success and inclusion for students with disabilities at each juncture of their STEM journey from college to career 

Building our social capital to create lasting and productive changes

Sharing strategies for offering inclusive academic and student affairs programming
Individual Goals and Learning Outcomes
As a result of engaging in the convening, student participants will be able to:
Identify what empowers them to succeed in STEM  

Provide and promote peer support and exchange of ideas 

Understand  STEM careers in global, national, and regional contexts

Practice networking in academic and professional contexts
As a result of engaging in the convening, faculty and senior personnel participants will be able to:
Design and implement programs in higher education that empower students with disabilities to succeed in STEM disciplines and careers.

Explain supports for inclusive hiring of individuals with disabilities in STEM careers.

Review strategies to strengthen inclusive instruction in STEM classrooms.

Identify and establish practices to disrupt the marginalization of individuals with disabilities in STEM and beyond.

Understand the boundary-spanner role in creating change.

Develop national change resources related to disability in STEM.


Apply insights and strategies from convening to other faculty roles such as teaching, advising, mentoring, leadership and colleagueship.
Team Goals and Learning Outcomes
As a result of engaging in the convening, hub teams will be able to:
Build hub and local institutional action plans
Learn about change leadership.



Explore connections with campus change entities and initiatives.

Build community
Network during the convening with peers from your institution and other Alliance institutions.

Continue to receive support in your effort after the convening through ongoing professional development.

How to register
There are no registration fees to attend the convening. The backbone will host the following: lodging ($180/night); opening orientation on Tuesday (optional); working breakfast and lunch on Wednesday, Thursday, and Friday; accessible transportation from hotel to UMKC. Each hub will be responsible for transportation, ground transportation, and dinners for participating team members.
Space is limited, please register soon.
Who should attend
90 individuals representing six hubs and allied colleges and universities
5 PIs

2 program officers

2 external evaluators

5 hub leads (the Southeast Hub lead is also PI)

5 non-academic partners(determined by PIs)

Hubs determine their teams to include students (see "hub teams" for more information)
Hub teams
Each hub should send a team of 9 – 12 (depending on hub size) composed of campus leads, STEM faculty, and students participating in TAPDINTO-STEM (due to size, the Southeast Hub may have a larger team). Students may want to attend with another student they already know; factor this into assembling the hub team. For example, if a hub has institutes without student engagement (perhaps they are just joining TAPDINTO-STEM), they may not have student representatives but instead, have the campus lead and a faculty mentor participate. In that same hub, a university with several participating students may select two students and a campus leader. Making these decisions, on the whole, will help us reach the goal of 30 students, 30 campus lead STEM faculty, 30 program senior personnel, and non-academic partners. 
As hubs plan their teams, please ensure that the voices of individuals with disabilities and individuals with diverse backgrounds are present among STEM educators, professionals, and scholars.